According to expert concrete staining contractors, concrete acid staining is becoming more popular among homeowners after finding out how adaptable and attractive these floors can be! A concrete floor installation entails much more than merely pouring that boring, gray concrete and waiting for it to cure. You're only limited by your creativity when sprucing up a concrete floor by adding patterns and colors!
Concrete staining always starts with selecting the color used as a stain. They may be blended to produce multiple hues, giving you the precise aesthetic you want! Consider factors like the color of the room where the floor will be stained and what color will be easiest to maintain when selecting a color. Rich browns and deeper hues will be easier to keep, but lighter colors will need more frequent cleaning.
Got questions about concrete staining services?
If you need more information about concrete staining services, our friendly and knowledgable team is here to help.
Fill in your name, phone, and email, and we'll respond quickly.
Concrete staining is just one of the many options to get the appearance you want for your concrete floors without breaking the bank! However, concrete staining might be difficult since you usually only have one shot. Improper concrete staining may go wrong in minutes, so it's critical to correctly stain your concrete before embarking on the project! When in doubt, the best persons to consult are concrete staining contractors because they have the skills and experience to do the job right.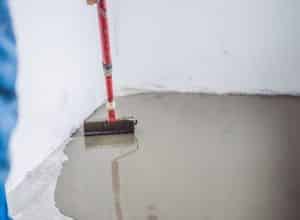 Always check for genuine concrete staining products. Many products on the market may look stained but are only paint or film formers. These will not be as effective as a concrete stain. Stains include small particles absorbed by the concrete and may penetrate up to 1/8′′ of the floor. These stains will perform far better and persist significantly longer than other products. A lot of staining products could leave a regular homeowner overwhelmed. This is where expert concrete staining contractors come in. They know which products and methods to use to produce the right concrete stain for your home.
The Advantages of Decorative Concrete Staining
Homeowners are now discovering the advantages of stained concrete and are transforming their homes, decks, patios, and driveways with this unique, creative application. Some of the most important advantages of staining are:
Improved Floor Aesthetics
Colorful is always better. Stained concrete provides color and enhances the appearance of plain concrete, making it more attractive and vibrant. Not only will this improve the overall appearance of your home, but it will also increase its value.
Cover Up Blemishes
Concrete staining may cover up tough stains from spilled liquids or chemicals on existing concrete. If the concrete has faded uncontrolled over time, staining alters it and makes it appear as nice as new.
Inexpensive Flooring
If you wanted colorful concrete in the past, you had to use paint. However, since it remains on the surface, it is readily chipped and flaked off. Staining helps fix these concerns by producing color that lasts longer.
Stains with Acid and Water
Concrete stains are classified into two types: acid and water-based. According to expert concrete staining contractors, the majority of concrete staining is done using an acid stain. It's a combination of hydrochloric acid and metallic salts. When the stain penetrates the surface, it interacts with the lime and mineral content of the concrete.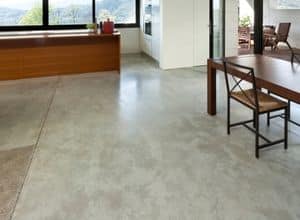 The reaction etches the surface, allowing the color to permeate deeper into the concrete. The stain is persistent once it has penetrated and dried. Because water is a non-reactive coloring ingredient, water-based stains give more constant and homogeneous colors over the surface.
Staining concrete driveways and patios, like staining wood, will reveal distinct hues and patterns. This makes each application unique, depending on how the stain absorbs in the concrete.
It also offers natural character and color changes across the same application, increasing variety, and attractiveness.
Why It's Advisable To Let Professional Concrete Staining Contractors Do The Job
Many property owners assume they can stain concrete on their own. However, it is a complex project that calls for the skills and experience of professional concrete staining contractors. Here are seven reasons why hiring expert concrete staining contractors is worthwhile.
The Right Equipment Is Required
Although the tools and equipment required for most concrete staining are simple, you must understand how to shop for them. Do you know what kind of stain to purchase? Which mop, roller, or squeegee should be used for each product, and how should they be utilized? If not, consider hiring professional concrete staining contractors.
Surface Preparation Is Critical
Whether you are staining old or brand-new concrete, one of the most crucial steps is to prep it correctly. This necessitates thoroughly curing fresh concrete. For existing concrete, there are issues such as its past exposure to weather, spills, and chemicals, along with its level of wear and tear. Paint and coatings can mask just about anything, but stains are translucent, and this prep is very important.
Extensive Product Knowledge
Do you know off the top of your head if an acid-based or water-based stain is best for your needs? What about non-reactive stains or permanent chemical bonds? What do these terms mean? When you work with professional concrete staining contractors, you work with people who know these products inside and out.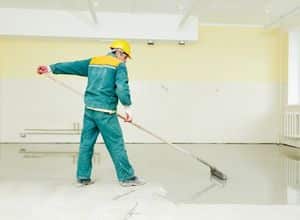 There Are Potentially Dangerous Chemicals Involved
You may be working with an acid-based stain, which can be corrosive and dangerous. If used incorrectly or without the proper safety precautions, it could irritate the eyes and skin. You will likewise need to know how to safely and legally dispose of any leftover chemicals.
Guaranteed Work
When a DIY goes wrong, chances are, you would hire someone to fix it. Not only will this be time-consuming, but it is also costly. If you hire professional concrete staining contractors to start with, you are assured that their work is guaranteed to be effective and that they could provide a warranty to come back and fix it for free within a given time frame. Expert concrete staining contractors minimize having to do back jobs by ensuring they do it right the first time.
Instead of buying how-to books and watching video tutorials about how to do stained concrete on your own, hire concrete staining contractors with the knowledge, tools, and skill. Not only will this save you from all the heartache and hard work, but it will also help save precious time and hard-earned money. Make sure you hire someone who is licensed, experienced, and offers a warranty. Leaving it to a professional, you are more likely to enjoy stunning stained concrete surfaces sooner and for much longer.