Are you looking for decorative concrete ideas? Concrete is essential when constructing houses, roads, office buildings, and other establishments. It comes from composite materials such as water, Portland cement, and sand, gravel, or rock aggregates. Combining all these materials leads to a workable paste that eventually hardens after a while.
Concrete no longer seems like a grey slab employed in construction projects. Whether you're planning to install or redecorate a patio or driveway on your property or are still looking for decorative concrete ideas, you can now improve the appearance of that part of your home using decorative concrete applications. This type of special concrete has different designs that could suit the style you have in mind.
The more information you can give your floor contractor, the better he can plan your patio project and offer you an accurate cost of their paver patio.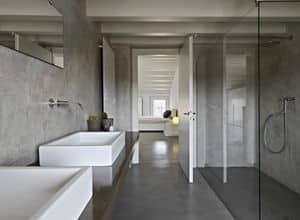 But before you choose the material of decorative concrete you plan to use in your home, you have to consider these design factors.
Colour
You could put a pop of color in your concrete driveway using any decorative concrete. You could achieve these decorative concrete ideas by adding integral colors to your concrete mixture to make the vibrant color you want to see in that part of your home. You should also incorporate topical colors at the top layer of the concrete to give a more eye-catching finish. Some of the colors you might consider adding to your decorative concrete include neutral shades if you plan to follow a neutral theme or use a bold tone to make the place stand out.
Stamp Design
Using a plain concrete surface might sometimes look dull. But you can enhance the appearance by using the concrete stamping method. Stamped concrete can resemble brick or natural stone, providing a different dimension to the construction project. You may also make the concrete look such as cobblestone, slate, or even a well-polished wood.
Stain Design
You might also want to use the stain treatment to make the concrete floor more attractive. You could use stained concrete in either the exterior or interior flooring. Fortunately, staining your concrete floor is relatively easy. You have to follow the simple staining techniques to have the finish you want for the construction project.
Polish Finish
Another famous choice for improving the area's look where you intend to install decorative concrete slabs is the polished look. You could make the space more aesthetically pleasing without spending a lot of money. If you also decide to go for polished concrete, you no longer need to worry about expensive maintenance to keep the beautiful look of your concrete project.
Exposed Aggregate Design
Using the exposed aggregate treatment, your decorative concrete will look even more interesting. It simply strips off the flat top concrete layer and shows the uneven aggregates covered inside. It still got the same durability as normal concrete, but the unpolished look gives it a different but excellent texture. You might also combine it with the color of your choice to make the project even more pleasing to the eyes.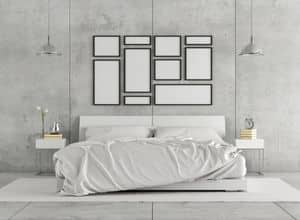 Due to its durability, versatility, and strength, concrete will always be a part of any construction project. But due to these treatments, the concrete could also become part of the house design you wish to build. So pick one of these treatments or use a combination to make your project more beautiful.
Where Can You Use Decorative Concrete Ideas?
If you are struggling to understand or come up with decorative concrete ideas for how concrete floors could be seamlessly integrated into your houses, we've put together a handy mini-guide inside this great guide to how concrete floors could work in every part of your home, from bedrooms to kitchens:
Basement
Concrete is most often found in basements because building contractors use it as the default basement flooring material. Many homeowners cover it with carpeting or try to layer another flooring material, such as hardwood, on top of it. We are here to tell you why you should not do that.
Concrete floors in basements are ideal for a variety of reasons. First, your flooring won't be damaged, whatever you choose to use in your basement. Concrete could hold up under almost any activity and is inherently durable. It could also be easily cleaned and won't start to smell funky when unused as carpets usually do.
If you are not happy with the appearance of grey concrete in the basement, we suggest getting an acid stain done on the concrete floors. Acid stains lead to rich and interesting warm colors in a marble-like effect. It immediately elevates the look of a basement and takes it from a cold-looking drab room to a warm cozy space.
Bathroom
Concrete floors are perfect for bathrooms, or at least we think so. When sealed, concrete floors are waterproof and durable, which is especially useful in a room where water might get on the floor at any time. Aside from the water not damaging the floor, it could also be easily cleaned up with a dry mop. Another good thing regarding concrete, as opposed to a material like tile, is that concrete could be made to be slip-resistant.
While almost any design could be achieved with concrete floors, we love the look of polished and grey concrete in a bathroom with a slightly raised texture to guarantee safety when feet are wet. It could make your bathroom a calm and minimal haven without loud colors.
Bedroom
This one is ultimately going to be based on your personal preference. Concrete floors in the bedroom could look harsh, but we think there's a cool quality to them that can be customized to your personality.
While we know you may prefer the visuals of a hardwood bedroom floor for ultimate warmth, there's something unique about polished concrete floors in the bedroom with patterned and exotic rugs on top to contrast the concrete's minimalism.
Nevertheless, if you're staying in a place with a hot climate, we recommend looking into concrete floors for the bedroom for more practical reasons. They are a naturally cool material that does not soak up as much heat as other materials and can give relief on hot nights. Style a concrete-floored bedroom sparingly with space-saving and thoughtful furniture.
Dining Room
If you love to entertain, give your guests something to discuss and admire your next dinner party with concrete floors.
We love the appearance of minimal Scandinavian-inspired dining sets on top of polished concrete floors, but we also love the appearance of water-stained concrete floors that are even and light-colored with bright cushions on dining chairs. Adding a small patterned design to your floors with concrete stamping that could set your dining area apart from the rest of the rooms in your house is also very chic.
The dining room is about the people you have over, and you could customize your dining area to best fit your personality and the food you love to serve.
Garage
The garage is a room in your home that has and always will have a harmonious marriage with concrete floors. And we know why:
Grease stains are avoided.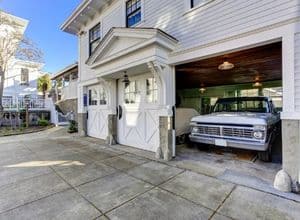 The floors are easy to clean if your car brings in mud or water.
It's durable enough to bear the weight of a car without denting.
Make concrete work for the garage by applying a high-shine sealer and installing bright lights to reflect that shine. This easily provides your garage with an expensive, bigger-than-it-is look that would make for the perfect welcome home.
Kitchen
Like kitchens, garages, and concrete floors go extremely well together but have only started going steady in the past years. Concrete floors are great for the kitchen because they're low-maintenance, easy to clean, and easy to repair. Keeping a kitchen sanitary is incredibly important and choosing a material like concrete where dirt could easily be identified and cleaned is a great choice.
You could go multiple routes with concrete floors in kitchens, but we suggest a dark grey stain that has a brightly-colored stamped pattern around the floor's border. It gives the room a unique look while still maintaining its practicality.
Laundry Room
You don't have to worry about design in a laundry room, so we are not surprised you have never considered decorative concrete there, but there are multiple benefits to picking a simple polished concrete floor in your laundry room.
It is water-resistant, easy to clean, and you do not have to worry about your clothes getting on the floor and becoming dirty.
Patios and Pool Decks
Another area where decorative concrete is getting more popular is for patios. You could turn a drab gray concrete slab into something beautiful in your backyard.
Driveways
Do you want to make a great first impression? Improve your curb appeal. Use decorative concrete for the driveway. It could make a significant difference to the curb appeal of your house.
Benefits of Using Concrete
We can perhaps trace some of the concrete's popularity in the last couple of years to the rising trend of home decor and minimalist philosophy. Minimalism is essentially a rejection of the cluttered and consumerist lifestyles we have grown accustomed to with the introduction of the new century.
It focuses on being organized and minimal in everything – from your life to your belongings and how you decorate your home. Concrete holds some kind of appeal for this kind of lifestyle as its closely associated with industrialism due to its low maintenance characteristic and clean, sleek appearance.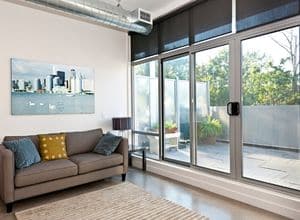 But beyond the close ties between concrete floors and minimalism, you do not have to be a minimalist person to choose concrete flooring. Even practical and maximalist homeowners could understand that concrete floors have certain benefits unmatched by other flooring materials.
When sealed properly, concrete floors are extremely resistant to stains from oil, grease, color, water, and almost anything else you might accidentally spill on it. And when something's spilled, dry cloth or a dry mop can quickly clean up the mess. This makes them perfect for households with young children or to install in kitchens and garages where messes can be expected.
Concrete is famously affordable as well. It is cheaper than most popular flooring materials and has a short installation time for those who can't wait to move into their new home.
They are also extremely durable and have the longevity that couldn't be beaten. With reliable flooring contractors and the proper mixing of aggregates and cement, concrete can last even longer. And using modern techniques and contemporary decorative concrete ideas, concrete floors could be easily repaired and resurfaced to make them look brand-new with virtually no trouble to the homeowner.