If your garage can use an upgrade, installing commercial garage floors is one of the best options for you. Installing commercial garage floors and putting an epoxy coating on your garage floor offers lots of benefits.
This long-lasting coating could be painted on quickly by our professional team and offer you good looks, safety, and durability for years. Some of the top reasons to think about when installing commercial garage floors and using an epoxy coating on your garage floor:
Epoxy Protects Against Lifting and Peeling
Regular floor paint could peel and lift. Over time, these patches get unsightly and even dangerous. The hardened coating is bonded to your garage floor using epoxy, indicating it will stay down.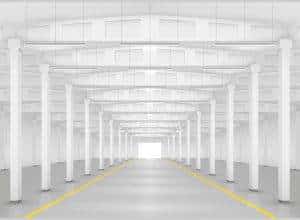 Our process begins with commercial grade grinding to remove old coatings and open the floor so the epoxy can penetrate deeply. Then, the coating is added and left to cure. This process offers you durability for years. Over time, the cost every year of an epoxy floor drops to impressively low amounts. And, should you choose to sell, your epoxy flooring could be a big bonus and a strong attraction for potential buyers.
Garage Floor Coating Is Resistant to Impact
No need to think about dropped tools marring the floor. Epoxy cures to a thick and hard finish. This makes it resistant to impacts, chemicals, and surface abrasion. So, you could drag a toolbox across without thinking about leaving marks. No need to think about damage if you accidentally spill chemicals. You could expect years of great looks and hard wear even if you are tough on your floor.
Garage Floor Coating Makes The Garage Look Good
With a nice epoxy coating, the garage can be a showroom. There are various textures and colors to choose from to fit every taste. Choose decorative chip finishes with the look of granite, slate, or another surface. Or, you can choose a range of solids, with each shade from neutral sand beige to arresting green, blue, or yellow. The fresh look makes the entire place look put together and pleasant.
Want a workshop that would make all your friends jealous? A new epoxy floor is a great place to start. The surface elevates any room, so consider installing commercial garage floors.
The Coating Covers Flaws and Cracks in the Concrete
You can fill and repair flaws and cracks in a garage floor. However, they'll come back again with many methods, worse than ever. Paint may fill the area, but it'll never truly seal and permanently repair the crack.
An epoxy coating is solid and thick enough to fill and eliminate them. Our skilled technicians could properly prep your floor before applying to coat so that all flaws and cracks are handled. A polymer filler is used to fill pits and cracks, while any bumps could be smoothed with a diamond tooling device. Our crew could deal with chipped areas and other flaws to create a durable and smooth surface. Once the flooring is installed and set, it'll look like they were never there.
It's Easy to Clean
The garage is the place that seems to take the most abuse. Grime and dirt from tires get tracked in.
You can deal with a real mess with bare cement and other coatings. Sometimes, stains are permanent no matter how quickly you get them cleaned up.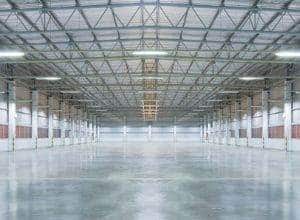 Epoxy floors are different. No more having a hard time with stubborn garage floor stains. Lift up quickly and easily when you have epoxy, oil, grime, and other materials. Epoxy floors are resistant to dust, moisture, dirt, and grime. Unlike bare cement, spills and wetness do not penetrate, causing stains.
Usually, you'll be able to clean your garage floor with a spray nozzle on your hose. When serious dirt and grime are on the floor, sweep, then fill a bucket with hot water and 4-5 ounces of clear ammonia. Any oil, dirt, or other materials on the floor would come off quickly and easily, leaving your garage floor looking clean and fresh.
Brightens the Surroundings
Untreated garages are dim and can feel a bit lifeless. The unreflective, bland appearance of an untreated garage floor can make a garage feel boring.
Installing commercial garage floors and using a garage floor coating can help to make your garage much more welcoming. The splash of color from a decorative coating will help eliminate bland concrete's dark, oppressive atmosphere. This is especially important for a garage that is used more for leisure space than vehicle storage.
Many coatings are also reflective. This helps light up the interior from any windows or an open garage door with natural lighting. You'll also need fewer lighting installments, in general, to keep everything properly lit.
It Increases the Safety of Your Garage
Slip and fall accidents in your commercial establishment are a major cause of injuries. They are the most common cause of injuries on your property and second only to car accidents for individual deaths. Many coatings could leave the area slippery and dangerous when your garage floor gets wet from snow, rain, or spills. It's easy to skid across the floor, especially when engaging in another task.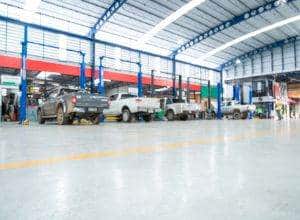 Consider asking for a non-slip finish when installing your epoxy garage floor. These additives can be used on your floor to guarantee that it resists slips, even when water makes its way into the garage.
Is it time to give the garage a new look and more functionality? The epoxy coating could update the room and give it a new aesthetic appeal. Our seasoned experts bring years of training to the job. Also, a complete installation takes just two days. Before you know it, you'll enjoy your newly spruced-up space. Want to learn more? Contact us now to discuss installing commercial garage floors.
Easy Garage Floor Coating by Installing Commercial Garage Floors
Installing commercial garage floors can help instantly bring your property to the next level. Your garage will be improved with a durable and long-lasting coat through defense and aesthetics. Better than anything else, you won't have to shell out an arm or a leg to make the renovation.