Your property could benefit greatly from the charm and personality decorative concrete floors can provide. More and more residential and business buildings are now choosing decorative concrete flooring over other options. There are several reasons for this, but one of the key advantages is how adaptable concrete is. It could produce a broad range of distinct appearances, from rustic to contemporary.
The Concrete Comeback
Concrete flooring has lost favor in recent years. Yet, in the past few years, they have gained appeal again for a good cause. A portion of the rise in the popularity of concrete over the last several years can be attributed to the growing appeal of minimalist design for interior spaces. It emphasizes living simply and keeping everything in order, including your life, property, and how your home is decorated. With its minimal maintenance requirements and industrialist associations, concrete has a certain allure for this lifestyle. It also has a clean, modern look.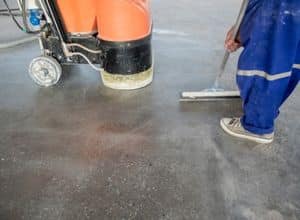 But why choose bare concrete floors when decorative concrete floors offer patterns, color, shine, and many more styles?
What is Decorative Concrete?
While decorative concrete is a kind of concrete, it differs greatly from the drab and practical concrete you would often see. You'll be able to give your house a unique appearance and feel. Hence, it could be an eye-catching component that dramatically improves the beauty of your house rather than merely being a suitable medium. Many choices are available regarding finishes, colors, patterns, and other styles.
Decorative concrete floors may be used in various places, including your home's flooring, walkways, patios, porches, fire pits, swimming pools, and garage floors.
5 Types Of Decorative Concrete Floors
When attempting to define what decorative concrete is and what it is not, a lot of conflicting information is available. Since new methods are created every year, we would do our best to keep this list as updated as possible so you can choose the best decorative concrete floors for your house:
1. Stamped Concrete
Stamped concrete adds texture and style to any floor by using sizable stamping mats and molds that are pushed into wet concrete to make an impression. It may be used to customize the designs, add patterns, and replicate the appearance of different flooring materials, including stone, brick, and wood.
2. Stained Concrete
Concrete stains are applied to a concrete slab to embed color deeply. That turns this method into a durable coloring choice for concrete flooring. Acid and water-based stains are the two types of stains. Acid stains provide a deep, uneven stain, while water-based stains give concrete floors even, vivid pigmentation. Acid stains are ideal for customers who wish to provide a distinctive and warm-toned hue to their flooring. Water-based stains are the ideal option; however, if you want a precise hue that acid stains cannot achieve or if you want to combine a stain with a design or pattern.
3. Colored Concrete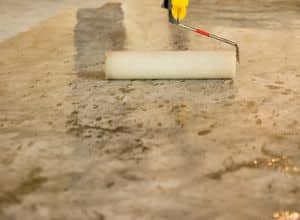 By applying a kind of dye to concrete floors, which is often composed of pigmented inks combined with any form of solvent—typically alcohol or acetone—intended to assist the dye in permeating the concrete slab, colored decorative concrete floors may be created.
4. Overlays
Overlays are often applied as a fresh layer on top of preexisting concrete floors for decorative reasons, which may later be stamped or engraved with a design. Those who prefer stamped concrete but lack the resources to completely remove and replace their existing concrete floors with new ones would benefit from this procedure.
5. Polished Concrete
Not to be confused with sealing or waxing and physically polishing the floor, polished concrete is a decorative concrete method that utilizes a chemical densifier. The densifier is put on top of the concrete floors to guarantee that everything is filled in and the material's pores are filled. When dried, the densifier is ground and buffed to the appropriate shine using a grinder. It is a popular option for those who want to leave their concrete floors bare but want a little extra something to make them stand out since it is available in various grades and finishes.
Advantages Of Decorative Concrete Floors For Your Property
Resistance to Scratching and Other Damage
Durability is one of the most crucial flooring characteristics, whether indoors or outside, particularly in regions with a lot of foot activity. The daily foot traffic could wear down, discolor, or ruin the carpet. Because of normal wear and tear, vinyl flooring and even hardwood floors may be scraped and dented.
Decorative concrete has definite advantages over these materials, including the fact that it is very difficult to scratch or chip with normal foot traffic or everyday use, that heavyweights (like a car) can be supported without causing structural issues, and that it lasts a lot longer than other flooring materials. Because of its durability, unlike carpeting or hardwood, it not only adds convenience but also saves you money since it won't need to be replaced that often.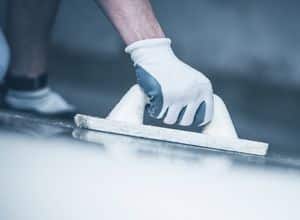 Low and Simple Maintenance
There are many acrylic or epoxy coating options available in the market to ensure that your decorative concrete floors are sealed and finished. These coatings ensure that the floor is moisture-proof, making it resistant to stains and damage from spilled liquids, and it is simple to clean.
The same is true for dust and filth, which can be easily removed by sweeping and mopping or, if you prefer, by investing in a state-of-the-art automatic floor cleaner that will clean your decorative concrete floors for you. You may pick a coating pattern, color, or texture that suits your design and color scheme from the many coating options available.
An Eco-Friendly Solution
Concrete flooring is one of the top solutions on the market for eco-friendliness. For example, most houses already have a concrete subfloor to accommodate carpet or laminate flooring. Therefore, the concrete flooring may be treated with a stain or decorative pattern and then sealed with an acrylic or epoxy finish rather than having additional materials installed on top of it.
By doing this, you can acquire a really attractive design feature for your house without worrying about purchasing and installing things that will eventually wear out and cost you additional money to replace. Hence, by producing less garbage that ends up in landfills, you are protecting both the environment and your money.
Cost-effective
There are several ways that decorative concrete floors could be cost-effective. As many homes already have concrete subflooring, there is no need to spend money on carpet, vinyl, or hardwood flooring. Also, maintenance costs are minimal since it only wears out more slowly than these other materials. Nonetheless, it may be done for a fraction of the expense of replacing carpet or hardwood, even if new concrete has to be laid in your house, place of business, driveway, or garage.
Beautiful and Versatile Design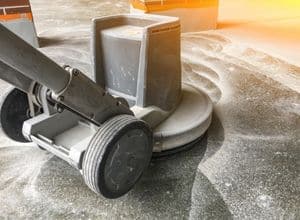 Various varieties of decorative concrete floors provide you with a wide variety of possibilities for colors, stains, patterns, and textures. They will enable you to personalize your flooring for whatever design or aesthetic you have. You may use colors and stains to create patterns and blend in with the rest of your furniture or the color of your walls. With stamping, you may replicate the appearance of stone, brick, cobblestone, and many other materials. You can add textures, such as grooves or engravings, allowing you complete creative control over the final appearance of your decorative concrete floors.
Cooling Properties
Installing decorative concrete floors is a terrific way to keep your house cooler even without air conditioning if you have hot, humid summers. Concrete maintains its coolness to the touch even when heated, helping to decrease indoor temperatures in the summer. Also, it may result in a decrease in your utility costs.
Better Air Quality
A fantastic alternative for allergy sufferers is concrete flooring. The non-porous surface of the concrete is a great option if you or a loved one has allergies to dust, pollen, or other allergens since none of the allergens can go into the flooring. You can easily remove them from your house just by sweeping and mopping them up.
Long-Lasting
In contrast to other flooring options like carpet or laminate, decorative concrete floors have a long lifetime. Therefore, they are a great solution for any property seeking a durable yet appealing option that will only need a replacement for a while.
Conclusion
Decorative concrete floors could provide a variety of advantages, such as an attractive and distinctive flooring choice, higher comfort and safety, and better indoor air quality. Decorative concrete is a terrific option if you want to give your house a splash of color or make a flooring surface that is more practical and long-lasting. Why not give decorative concrete floors a try? We at Floor Doctor are skilled, trained, and experienced in creating amazing decorative concrete floors. Contact us today!